Youth
Jumping Juniors
GRADES 2 – 6 | DIRECTOR OF CHRISTIAN EDUCATION & YOUTH : Aaron
Hinnershitz
These youth meet once a month after our 10:45 A.M. service; there they enjoy lunch and fellowship. Within this ministry, youth begin to develop their faith alongside their peers and understand the importance of reaching out to their church community through service projects.
Service Projects: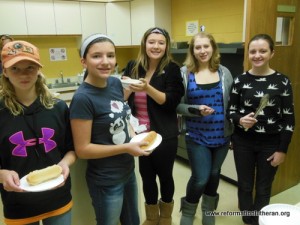 Thanksgiving Project
Easter Eggs
Group Activities:
Bowling
Mini Golf
Roller Skating
Hide and Seek
---
Youth Group
GRADES 7 – 12 | DIRECTOR OF CHRISTIAN EDUCATION & YOUTH : Aaron
Hinnershitz
Within this youth ministry, children participate in fellowship, prayer, and service projects.
Preach God's message to our youth where God's word becomes living within them.
Teach God's word so youth are empowered to turn towards God in their own personal experiences.
Reach past themselves to share their talents and faith to their peers, congregation and outside world.
Service Projects:
Rent a Teen
Congregational breakfasts
Youth Sunday
Free car wash
Souper Bowl Sunday
Potato Project
Yard sale
Group Activities:
Bowling
Ozzy's Family Fun Center
Mystery dinner
Flamingo fundraiser
ELCA National Youth Gathering
"The Backdoor" concerts featuring local teen bands
Lazer Tag
---
2016 WBMD Youth Gathering
Reformation hosted the 2016 West Berks Mission District Youth Event on the weekend of February 5-6. 71 youth and their chaperons representing 13 area churches participated in the overnight event that featured the Christian teenage band, Pursuing JC, from Huntington, New York. The youth participated in various breakout sessions including a Walk for Water activity, throughout the church hallways, and the assembling of care packages for those serving in the military. It was an awesome weekend of music, service, games, friends and fellowship!
Click here for a video from the closing night concert.