Our Pastor
The Rev. Steven Claycomb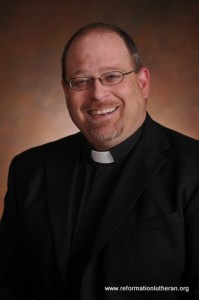 Pastor Steve began to serve Reformation as its pastor in 2007. He has encouraged and supported the congregation to take on many new ministries, such as Family Promise, the Exeter Area Food Pantry, providing a free Thanksgiving meal to those in the Exeter Community, and many learning and fellowship opportunities. He emphasizes the worship experience as one that changes throughout the year so that it is always new. Worship changes – the liturgy, the type of bread and wine, the preparation of the sanctuary, the music – all focus the worship experience.
Pastor Steve was born in Tanzania to missionary parents. He grew up in Bucks County and began his professional career as a registered nurse at Chestnut Hill Hospital. He also worked throughout the Gettysburg area in Home Health Care and Hospice. After graduation from Gettysburg Theological Seminary, he served a two point parish between Altoona and Johnstown — at First Lutheran Church in Portage and St. Luke Lutheran Church in Lilly, and later St. Paul Lutheran in Pine Grove Mills, PA.
Pastor Steve believes churches should never begin a discussion with 'we've always done it that way'. Rather he says: "The church should always ask itself how it can be 'church' beyond its walls." He is always open to new ideas for ministry and enjoys talking with others about how they can share their gifts. "The church should be that place which builds and equips those of all ages to share the love of God. We are blessed to be a blessing. Shouldn't our lives look like following Jesus makes a difference!"
Pastor lives in Muhlenberg Township with his wife, Bonnie and son, Andrew. Other interests of his include Penn State wrestling, Steelers football, cooking and reading.
---
Director of Music and Accompanist
Lars Potteiger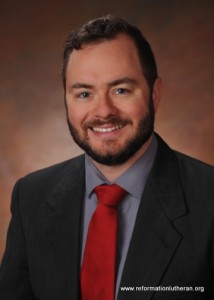 Lars Potteiger joined the staff as Director of Music at Reformation Lutheran Church in September of 2015 where he plans and accompanies music for worship and directs adult and youth choirs. He previously served congregations in New York City and Cincinnati.
In addition to his work in the church, Lars teaches as an adjunct professor at Albright College and maintains an active schedule as a jazz performer, composer, producer, recording artist, and clinician throughout the United States and abroad. He has also had the pleasure of performing on a few Grammy nominated recordings. Lars holds a Bachelor of Music degree from the University of Cincinnati College-Conservatory of Music, where he graduated magna cum laude.
When not making music, Lars enjoys cooking and eating all kinds of cuisine from every part of the globe and is an avid exerciser and outdoors enthusiast.
---
Director of Christian Education and Youth
Aaron Hinnershitz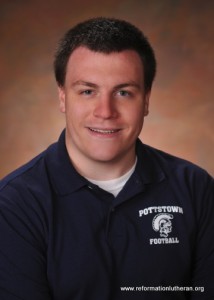 Aaron is responsible for all of the youth and educational activities at Reformation including Sunday School, Youth Groups, and other youth events. He also is the chairperson of the Youth and Education Committee.
Aaron graduated from Widener University in 2012 with bachelor's degrees in Elementary Education and Early Childhood Education. He is currently a teacher in the Pottstown School District where he also coaches football. In his free time he is a passionate fan of the Philadelphia 76ers and enjoys volunteering for various children's organizations.
---
Church Secretary
Pat Bower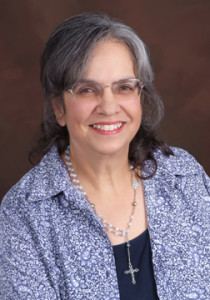 As secretary of the Church, Pat will oversee all administrative responsibilities. She is the Pastor's primary support as well as the resource for Church members and outside individuals. Pat started as the secretary in May of 2016. Previously she worked in a variety of positions that spanned over 40 years – from a filer in a library to an executive secretary. Pat was born and raised in New York and lived in North Carolina. She now calls Pennsylvania her home.
Married in 2012, Pat and her husband Fritz have between them 5 sons and one daughter, 2 grandsons and 2 granddaughters. They spend their free time enjoying their Native American heritage as well as gardening.
---
Treasurer
Larry Varone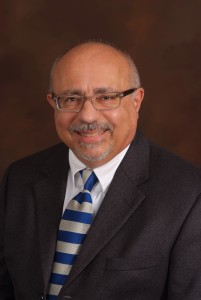 Larry Varone joined the staff at Reformation in the position of Treasurer in July 2016. He is responsible for keeping the regular books of accounts for the church. He receives all funds and disburses them on proper orders. This position requires involvement with the Finance and Executive Committees. Larry spent much of his working career in the accounting field, most recently working as in-house accounting supervisor for Drumar Development Company in the Reading area. He was responsible for all finances in the multiple entities covered by the development company.
Larry has lived in Exeter Township since the 1980s and served on multiple boards at Laurel Springs. He is also the treasurer for the Reiffton Fire Company Social Quarters.
---
Housekeeper
Millie Castillo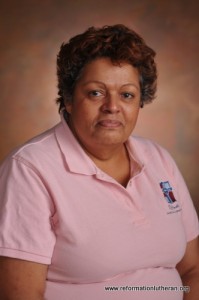 As housekeeper, Millie assures that our building is cared for and ready for the various groups that use it for worship, study, and fellowship. Millie Castillo is from Reading and came to Reformation as part of a temporary employment program with Mosaic House. She joined us early in 2014, and we are blessed by her presence and her work to keep the building in order.
---
Sexton
Mike Schneeberger
Mike has served in the role of Sexton since 2008. In this role, he is responsible for the security and safety of the building. You will often find him walking the halls doing a final check on one thing or another. He often works with the outside groups that use our building.
Mike is from Buffalo, NY and has a BS in education. He has worked for several companies in roles such as scheduling and logistics and property and facility management. Mike lived in Colorado and Wilkes-Barre. He and his wife, Pam, now reside in Reading and have one daughter, Laura.