Adult Ministries
GriefShare
Facilitator | Judy Plica
GriefShare, a faith-based grief recovery group, is a community for those who are dealing with grief and the loss of a loved one. There are two meeting times available on Thursdays at 1:00 P.M. and 7:00 P.M. There is no need to sign up – all are welcome. The sessions are designed to be continuous from week to week or utilized on an as-need basis. Help and encouragement is available as we journey from mourning to joy. Come and experience God's healing touch for your sorrowing heart.
---
Dinner Out Group
Facilitator | Pam Schneeberger
Once a month, usually the last Tuesday of the month, a group meets at a local restaurant for dinner, fellowship, and conversation. Watch the bulletin for the selected restaurant of the month and call the church office to make a reservation for a fun and delicious evening.
---
Movie Night
Facilitator | Dennis Humbert
One Friday a month at 6:30 P.M. a group gathers at Reformation to view and discuss a classic film. Check out the online calendar for the dates and join us for an enjoyable evening. Pick up a pamphlet in the narthex for more information.
---
Tuesday Gospel Study Group
Facilitator | Pastor Steve
Each Tuesday at 1:00 P.M. a group gathers in the parlor to discuss the upcoming Sunday's Gospel.
---
Women of the Evangelical Lutheran Church of America
(WELCA)
Chairperson | Carole Miller
Vice President | Jo Smith
Treasurer | Pam Schneeberger
Secretary | Pam Schneeberger
OUR MISSION AND PURPOSE: As a community of women created in the image of God, called to discipleship in Jesus Christ, and empowered by the Holy Spirit, we commit ourselves to grow in faith, affirm our gifts, support one another in our callings, engage in ministry and action, and promote healing and wholeness in the church, the society and the world.
Bible Study: This group is founded in Bible Study. Our study is taken from the magazine Gather. A subscription for the magazine can be obtained through Augsburg Fortress. Meetings are held on the first Monday of each month at 6:30 P.M. for our business meeting and 7:00 P.M. for Bible Study.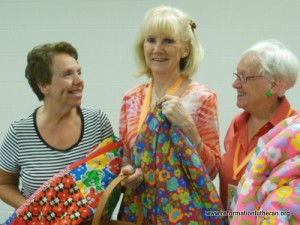 Service to Others: This group supports many Lutheran World Relief (LWR) projects. Gatherings are held the second Tuesday of the month at 9:30 A.M. to make mission quilts for LWR. At other times throughout the year, items are collected for LWR health kits, sewing kits and layette kits. The use of the Bar Code Tracker System has shown that Reformation's quilts have reached the countries of India, Georgia, and Mali.
Scholarships for Tanzanian Girls: This group collects funds for scholarships for young women in our partnership parish in Utanziwa, Tanzania to attend secondary school. Fifteen orphans are funded each school year; this allows the girls to have the opportunity to learn and to have better jobs and opportunities than would ever have been possible.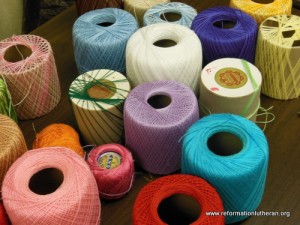 Knitting Ministry: Our Prayer Shawl Ministry Group continues to grow and is known as the Knit-Wits. The group is involved in various knitting service projects, with the Prayer Shawl Ministry ongoing. Knit-Wits meet the second and fourth Thursdays of the month at 3:30 P.M. in the parlor.
Writers' Group: Our Reformation Writers' Group meets Monday evenings at 6:00P.M. This group coordinates creating devotionals for Lent and Advent, with participants from the congregation. The group gathers monthly and writes, sometimes using resources and ideas from other members, on a wide variety of topics and interests. The group began by using a resource called Christian Voices: Leading Women's Writing Groups by Mary Mortimer Dossin. They used the SheReadsTruth resource, Acts of the Apostles, during Summer 2016. They also follow the Documented Life Project.
Book Club: Page Turners, our book club/readers' group, meets on the second Monday of the month at 7:00 P.M. Check the online calendar and monthly newsletters for specific dates and reading selections. During Summer 2016, the group hosted a Tea Party where attendees shared the 5 books that changed their life and participated in a book swap. Recent books read include:
Gaining Ground: A Story of Farmers' Markets, Local Food, and Saving the Family Farm, by Forrest Pritchard
Homegoing, by Yad Gyasi
Ordinary Grace, by William Kent Krueger
Our Souls at Night, by Kent Haruf
Links to more about Women of the ELCA:
Reformation WELCA Facebook: www.facebook.com/ReformationLutheranWomenOfTheElca
Women of the ELCA: www.womenoftheelca.org
Bold Cafe (devotional): www.boldcafe.org
Lutheran World Relief: www.lwr.org