Our Facilities
Our modern church complex was constructed in three phases over 35 years. Areas for worship, education, administration, and fellowship are fully handicap accessible and air-conditioned. Adequate parking is provided with a lot next to the building as well as on-street parking. Exterior and interior signage provides clear directions to visitors.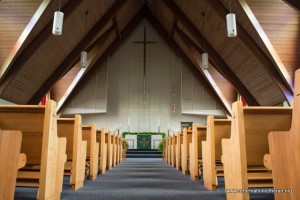 The sanctuary, built in 1967, is an A-frame structure with a soaring ceiling and triangular stained-glass windows. The space seats 250 people, with some additional, movable seating. Pew cutouts for those worshiping in wheel chairs are available. It features a three-manual Allen digital organ and a seven-foot Yamaha grand piano.
The parish hall seats 180, provides tables, chairs, and a kitchen for the use of a variety of functions. A piano is available in this space. A parlor and lounge provide comfortable furniture for smaller gatherings.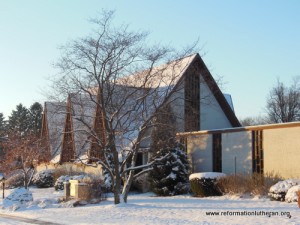 The educational classrooms vary in size, some with movable partitions to create larger or smaller spaces. The Wegman Memorial Library includes a small comfortable room for private counseling, as well as a library table with seating. The nursery, with adjoining bathroom, is conveniently located near the sanctuary. The music room provides rehearsal space, Young Chang baby grand piano, and storage areas.
The administrative wing, with offices and central workroom, has ample office and storage space for church employees. A secure entrance is easily accessible from the street on weekdays.