Partners of Reformation
Exeter Area Food Pantry
Facilitator | Melissa Howell-Clarke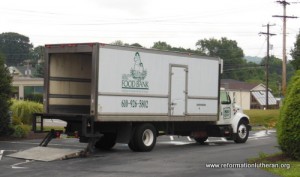 Reformation partnered with Schwarzwald Lutheran, St. Catherine's RCC, and Northstar UMC, as well as members of the community, to form and operate a local food pantry. The food pantry serves the 19606 and 19508 zipcodes, including Exeter, Mount Penn, and St. Lawrence. About 1,900 people in this area live in poverty, according to the U.S. Census Bureau.
Reformation serves as the distribution site for the pantry days, which is held on the third Friday of each month. Food is delivered from the Greater Berks Food Bank.
You can support this ministry by:
assisting during distribution times (2:00 P.M – 6:00 P.M.)
helping to set up that morning (9:00 A.M. – 12:00 P.M.)
donating food to support the pantry
joining the steering committee
praying for the people who need this service and the organizers of the project

Exeter Area Food Pantry brochure
Exeter Area Food Pantry brochure (part 2)

---
Hope Lutheran Church, Reading, PA Partnership
Our partner church, Hope Lutheran, has been serving the Reading community for 123 years. Pastor Mary Wolfe and the congregation serve a very diverse, low-income neighborhood. Hope's Director of Social Services runs several outreach programs that involve Reformation.
The Hope Church Food Pantry serves on average 260 families in need, and this number continues to grow. The need is so great that many will stand in line for hours in rain, sleet, snow and cold. These families regularly receive canned goods, bread, pastries, and a small amount of frozen meats and fresh fruits and vegetables, when available. The pantry is open four times a month. Though the pantry receives most of the food from the Greater Berks Food Bank, our donations of money and food staples are greatly appreciated.
Each year Hope opens its doors to the needy for distribution of gently used clothing. Our donations of well organized bags of clothing make these distributions orderly for Hope's volunteers.
Hope's Hang-out serves between 25 and 40 children every Tuesday and Wednesday during the school year. Starting at 3:30 P.M. children from as far away as ten blocks gather for after-school snacks. They are then given an opportunity to do homework and receive assistance from volunteers. School supplies are also available. By 4:00 P.M. the children are split into smaller groups for activities such as bingo, baking, game room, crafts, and sewing. There are also special activities such as trips to the Goggle Works, Christmas gifts for over 40 children (provided by our Angel Tree), Halloween parties, and an end-of-the-year picnic or social activity. The day ends with Kid's Café. The food is provided by the Greater Berks Food Bank and prepared by the Hispanic Center. Reformation coordinates sewing activities with these children.
Hope receives most of their funding from West Berks Mission District and Berks Community Action. The rest comes from donors, such as Reformation.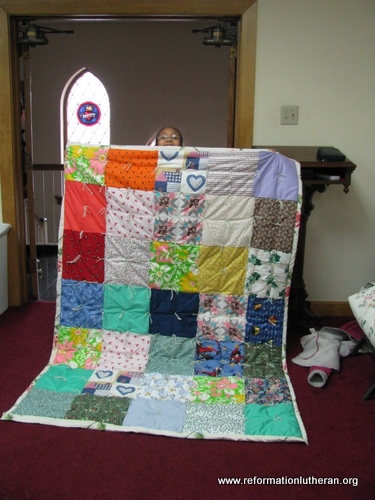 Reformation has made needed financial contributions to the Pastor's discretionary fund, which has provided fuel oil, water heaters, and other necessities to families in need in the neighborhood. We also helped Hope with funding for their new heating plant. Pastor Mary appreciated our participation in "Live the Love."
How can we further help Hope's mission? Continue to donate to assist the growing number of families in need. Clothing is always needed. The "sewing circle" could still use functioning sewing machines, machine needles, bobbins, sharp scissors, and fabric pieces. Consider teaching art, baking, or handcrafts or reading to the younger children. The biggest requirement for working with the kids is patience and a kind and gentle heart. Hope's Hang-out could always use volunteers, especially in the fall, even if it is only one time a year.
God's blessings to all who support our partnership to Hope Lutheran Church in Reading, PA and their mission.
---
Tanzania Partnership
Facilitator | Women of the ELCA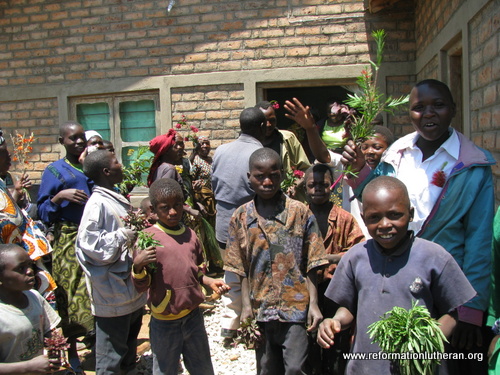 Reformation formed a partnership with Utanziwa Lutheran Parish in Utanziwa, Tanzania in 2004. Utanziwa Parish is in the southern highlands of Tanzania and is a farming community made up of 4 parish points – Utanziwa, Ikovakova, Illoho, and Imehe. They are self-sufficient to provide food, but water has been a problem. Through partnerships with a German congregation and Reformation, a system resulted that collected and distributed water to the parish points.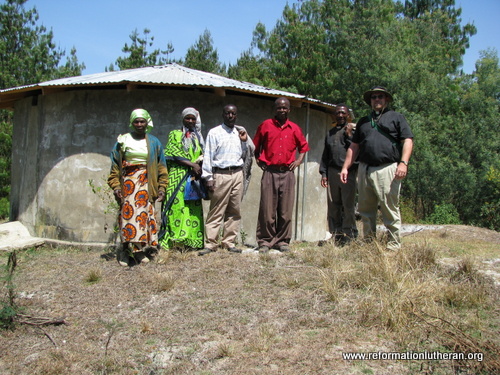 Reformation has also supported other ministries in Utanziwa. Funds from Sunday School offerings were used as seed money and the village has constructed a community house – to be used to house visitors, for teaching and for parish meetings. After Pastor Steve and another representative from Reformation visited Utanziwa, a series of improvements were made including a motorcycle for the pastor to get to the parish points and a solar power system to provide electricity to the church, visitors center and pastor's house.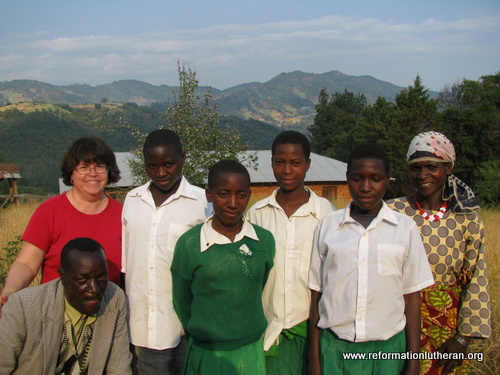 Annually, appeals led by the Women of the Evangelical Lutheran Church in America (WELCA) results in a scholarship fund to provide an education for 15 girls. There is no local secondary school so the fund pays for tuition, room and board, uniforms and supplies for each girl to attend the boarding school in Bulongwa. The leaders of Utanziwa have been enthusiastic for our support. They told us – "When you educate a boy, you educate a man. When you educate a girl, you educate a family."
HIV / AIDS is a devastating force in Utanziwa as is true in much of East Africa. Other ministries supported by Utanziwa Parish include care of close to 100 children left orphaned by the disease. Most families have adopted orphans to provide for their care. We hope to continue learning and being inspired by Utanziwa to always draw upon faith and joy in the Lord's presence throughout the challenges of day-to-day living, whatever the circumstances.
Support is needed for the ministry in many forms. Keep the partnership and Utanziwa Parish in your daily prayers. Support the scholarship fund; this is a commitment we make every year.