Reformation 500 Celebration
Reformation Sunday, October 29, 2017, will mark the 500th Anniversary Celebration of the Reformation. As our namesake, Reformation Evangelical Lutheran Church has embarked on a year long celebration of Martin Luther's 95 Theses that sparked the formation of the Lutheran Church.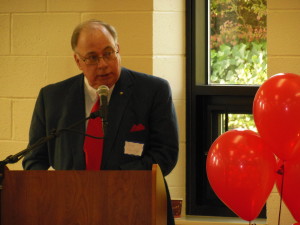 Donald Smith, member and Vice President of the Northeastern Pennsylvania Synod, spoke on October 30, 2016 at our kick-off event:
Today, the Presiding Bishop of the Evangelical Lutheran Church in America, Elizabeth Eaton, has asked Lutherans, over the next year, to study the Small Catechism anew as one way to mark the anniversary. Martin Luther never intended to start a new church, he only wanted to reform the Catholic church. But his followers grew in number and became known as Lutherans. A new church was born.
In the January/February issue of Liberty magazine, an article appears entitled: "The Search for Peace". Its author refers to Luther's translation of the Bible as his greatest legacy and then concludes: "Although Luther made many other significant contributions to religious history and thought, most notably the establishment of a separate Protestant church—something that he never could have envisioned when he set out to attack indulgences—one thing is clear: Luther believed that each person should determine truth through individual conscience based upon the Word of God…Ultimately, it led to the great discovery of Paul's message of justification by faith alone. By the time Martin Luther's remains were interred in the Castle Church in Wittenberg on February 22, 1546 'all medieval institutions' had changed as a direct result of his theology." Luther 500: What's the Big Deal Anyway?
Special Guests and Preachers
The Rev. Dr. D. Michael Bennethum – July 30
The Rev. Dr. Karl Krueger – September 10
Bishop David Strobel – October 29
Artist-in-Residence
As part of our celebration, we will be working with Artist-in-Residence, Beverly Leviner, on a large-scale clay mosaic mural project that will be installed in the church office.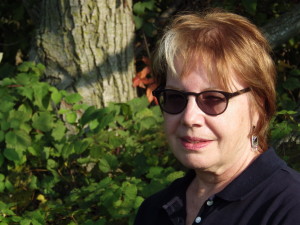 Beverly M. Leviner is an artist specializing in sculpture and ceramics. Her work can be seen on more then 25 murals throughout Berks County and abroad. Beverly is currently a roster artist with the PA Council on the Arts. Her lengthy career has spanned numerous schools and institutions including, most recently, Penn State University, Berks Campus. This past summer she served as the Artist In Residence at Anglican International School in Jerusalem, Israel. She is the co-founder of Hilltop Studio located on Cross Keys Road, Reading and holds a BFA degree from the University of North Carolina, Greensboro. She has exhibited extensively for more then 40 years.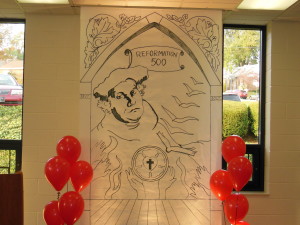 Congregation members can get involved in the mural project throughout the year, taking part in various phases of the project. A preliminary sketch of the mural features Martin Luther under a Gothic archway. The years of the Reformation are shown along with a depiction of the Bible, which Luther famously translated, transforming into a series of doves. The Luther Rose is centered at the bottom in outstretched hands. There will be space for small clay tiles along the sides with various historical and religious images. The background will be comprised of small fragments of broken tile, mirror, and glass to create a mosaic.
We will be creating 5" x 5" Luther Rose Tiles for our neighboring West Berks Mission District churches. These tiles will be given as a gift from the members of Reformation, Reiffton in honor of the 500th anniversary. Tiles will also be made available to Reformation members and friends to purchase as gifts for themselves and others.
Reformation 500 Mural brochure
Reformation 500 Liturgical Setting
Lars Potteiger, Director of Music at Reformation, is writing a liturgical setting using Martin Luther's texts and setting them to music for a unique service celebrating the 500th Anniversary of the Reformation. This service will be premiered on the 500th Anniversary Sunday and feature the Reformation Senior Choir. Parts of this liturgical setting will be introduced to the congregation by the choir leading up to the anniversary as expression of Reformation Lutheran Church's unique faith life during this time of celebration.
The ELC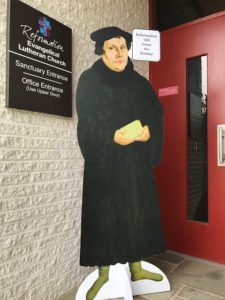 A has created a website where they will release resources and provide information about this important milestone of the Lutheran Church.
Click on the images below to view our monthly progress of the mural.